EFFORTLESS MASS SPECTROMETRY FOR ELECTROCHEMISTS
Would you prefer to concentrate on science rather than measurement technology?
The Spectro Inlets EC-MS is the first and only turnkey solution for mass spectrometry analysis of electrochemical reactions.
Ready to perform out of the box, the system is controlled by powerful software allowing the control of the potentiostat, mass spectrometer, gas, and vacuum systems from a single integrated graphical user interface.
Do not hesitate to contact us for a quotation or request an in-house demonstration of our product.
Unparalleled electrochemistry studies
The Spectro Inlets analysis system is a complete platform for electrochemistry experiments with real-time measurements.
It incorporates our unique microchip inlet technology with a vacuum and gas-handling system and a mass spectrometer to deliver unprecedented real-time measurements of volatile substances in liquid environments.
As a result, the EC-MS can characterize minute gas evolution at the surface of an electrode for electrochemistry and battery R&D.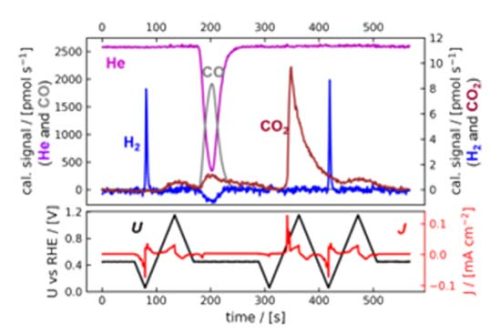 The Spectro Inlets system is a complete solution for EC-MS experiments, ready to perform out of the box. The instrument is provided with:
EC-MS tabletop analysis instrument (with embedded mass spectrometer)
BioLogic SP-200 potentiostat
EC cell
Five microchips
Roughing pump
Software (computer not included)
Electronics control box
Fluidic connectors and glassware
Mounting block to easily load sample