Unlock the full potential of mass spectrometry
Our team of engineers provide real-time and accurate measurement solutions to optimize environmental and chemical processes to achieve a greener, cleaner world.
Effortless mass spectrometry for electrochemists
The Spectro Inlets EC-MS is a complete platform for mass spectrometry analysis of electrochemical reactions in real-time.
Measure composition changes of volatile species with a time resolution down to 0.1 seconds.
Measure submonolayer desorption phenomena with sub-second time resolution and easily record transient effects.
Control instrument and measurements from an integrated, user-friendly graphical user interface.
Why an EC-MS from Spectro Inlets?
"The extremely high sensitivity will allow it to probe degradation processes that are significant over the calendar life of a battery, but which occur at a rate that is too slow to detect using the prior state-of-the-art. This will allow us to (i) understand what causes battery degradation (ii) predict with more accuracy the device lifetime of batteries, important for providing warranties for consumers (iii) develop processes that mitigate degradation."
Why Spectro Inlets relative to alternatives?
"The unprecedented sensitivity (approximately 1000 times higher than the prior state-of-the-art), minimal electrolyte evaporation, highly quantitative output data and strong and attentive customer service."
Dr. Ifan Stephen, Reader in Electrochemistry at Imperial College London
What insights can an EC-MS from Spectro Inlets give?
"We have beyond an original prototype set-up, two Spectroinlets systems in our laboratory. They are all used to give us unprecedented insight into electrochemical processes where different products are made.  For example, we have very recently used it to do isotope measurements and study the mechanism in detail that has not been possible earlier (see 1 & 2)  and to characterize entirely new catalysts on oxygen evolution catalysts (3). One machine is used for doing electrochemical CO2 and CO hydrogenation, and finally, we use one for analyzing the ammonia synthesis in non-aqueous electrolyte which is very challenging due to the presence of organic molecules and their decomposition products (4 & 5)."
S. B. Scott, J. E. Sørensen, R. R. Rao, C. Moon, J. Kibsgaard, Y. Shao-Horn, and I. Chorkendorff, "The low overpotential regime of acidic water oxidation part II: Does lattice oxygen evolution help?", Energy & Environmental Science 15 . DOI: 10.1039/D1EE03915FS.
B. Scott, R. R. Rao, C. Moon, J. E. Sørensen, J. Kibsgaard, Y. Shao-Horn, and I. Chorkendorff, "The low overpotential regme of acidic water oxidation part I: Measurement of O2 down to 60 mV overpotential", Energy & Environmental Science, 15 . DOI: 10.1039/D1EE03914HY-R.
Zheng,  J. Vernieres, Z. Wang, K. Zhang, D. Hochfilzer, K. Krempl, T-W. Liao, F. Presel, T. Altantzis, J. Fatermans, S. B. Scott1, N. M. Secher, C. Moon, P. Liu, S. Bals, S. V. Aert, A. Cao, M. Anand, J. K. Nørskov, J. Kibsgaard, and I. Chorkendorff, "Monitoring Oxygen Production on Mass-Selected Ir0.1Ta0.9O2.45 Catalysts", Nature Energy 7 (2021) 55-64, DOI: 10.1038/s41560-021-00948-wK.
Krempl, J. B. Pedersen, J. Kibsgaard, P. C. K. Vesborg, and I. Chorkendorff, "The role of anode reactions and generated protons during Li-mediated ammonia synthesis"  Eletrochem  Comm. 134 , DOI: 10.1016/j.elecom.2021.107186K.
Krempl, D. Hochfilzer, F. Cavalca, M. Saccocio, J. Kibsgaard, P. C. K. Vesborg and I. Chorkendorff, "Quantitative operando detection of electro synthesized ammonia using mass spectrometry", ChemElectroChem 9 (2022) e202101713, DOI: 10.1002/celc.202101713
Professor Ib Chorkendorff, director of the Villum Center for the science of sustainable fuels and chemicals (V-SUSTAIN)
Inline mass spectrometry for Process monitoring
The Spectro Inlets Liquid-Gas-Analyser (LGA) is an inline solution that offers valuable real-time data on dissolved gases and volatiles in liquids during production processes.
Call from process engineer
Avoid breakdowns
Concentrations of dissolved gasses such as NH4, CO2, H2, H2S, and CO directly to SCADA
Weekly reports
Evaluate organic loading
Optimize production
Do not hesitate to contact us for a quotation or request an in-house demonstration of our product.
Receive monthly news directly in your inbox by subscribing below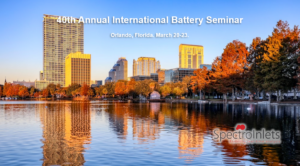 We are thrilled to announce that Spectro Inlets will participate in the 40th annual International Battery Seminar starting on March 20, 2023! This event takes
Read More »